Welcome!
Live Healthy South Carolina (LHSC) is a statewide collaborative to improve the health of all South Carolinians. Everyone deserves an opportunity at a healthy life, and you too, can help make a difference. Join us in this effort to improve the health of South Carolina.
2020 Live Healthy South Carolina Meeting and Awards
The 3rd Annual Live Healthy South Carolina meeting is scheduled for October 27 from 9:30 – 12:00. 

We will spotlight the innovative ways that both state and community partners have implemented the priorities of Live Healthy SC while navigating a global pandemic.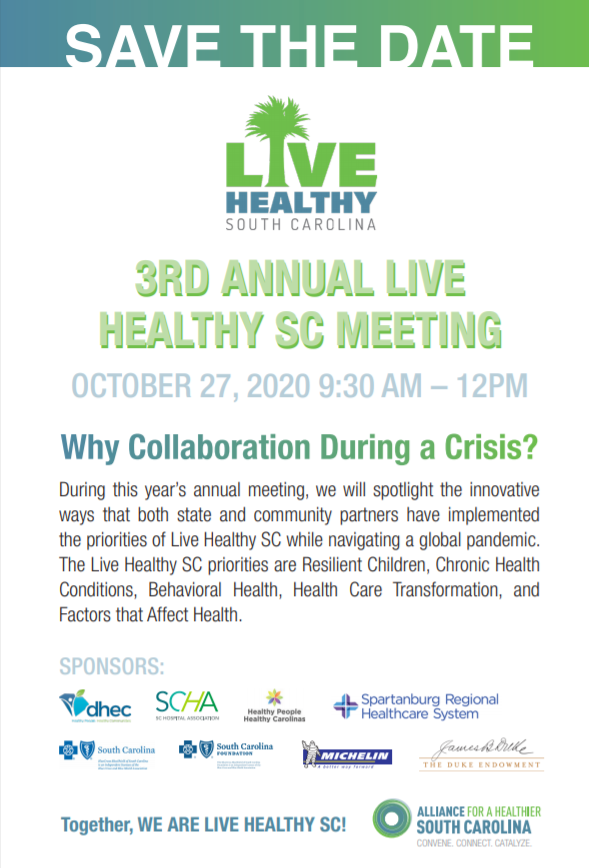 Call for Nominations!
The Live Healthy South Carolina Awards program recognizes those individuals and organizations that exemplify the highest levels of commitment to improving the health and wellbeing of communities they serve. Those who receive this recognition will serve as visible examples of how the Live Healthy SC blueprint can be effectively achieved in practice.
Award Eligibility Criteria: Any individual or community/state level organization with efforts that support 1 or more of the LHSC priority areas are eligible for this award. 
Award Categories
1.    Dr. Rick Foster Leadership Award An individual who has served as a champion for health and health equity at a local, regional or state level, and exemplify in action the key LHSC aims, priorities and goals are eligible for the Capstone Leader award.
2. Community Innovation Award A community coalition or community-based organization who demonstrates active engagement in leading and guiding innovative work for community health improvement and the elimination of health disparities.
3. State Impact Award A state level organization or coalition who demonstrates a commitment to support and take action under the LHSC plan, using a collaborative approach for state health improvement.
Deadline for submissions is September 18 @ 5pm. 
Submit nominations at www.healthiersc.org. Email questions to Monty Robertson at mrobertson@scha.org
Live Healthy SC 2020 Awards (PDF)
2019 Live Healthy South Carolina Award Winners 
1. Dr. Rick Foster Leadership Award
SUSAN WITKOWSKI, CEO, Community Medical Clinic of Kershaw County

2. Community Innovation Award
LIVEWELL KERSHAW COALITION

3. State Impact Award
SC THRIVE
2019 Live Healthy Annual Report